BIDDEFORD BALL FUNDRAISER TO BE HELD APRIL 29TH IN THE HISTORIC MILLS WITH THE GOAL OF BUILDING A MUCH NEEDED PLAYGROUND IN DOWNTOWN BIDDEFORD, MAINE.
Local Fashion Designer ROXI SUGER is organizing this event with the goal of building a new green space and playground in downtown BIDDEFORD. Suger is one of the many entrepreneurs, organizations, leaders, individuals and small businesses that have spurred the revitalization of this once again thriving Mill Town.
Biddeford, Maine now features 5 breweries, 2 distilleries, a famous Diner, a James Beard chef, a luxury hotel, shopping, elegant dining and so much more yet still has NO DOWNTOWN PLAYGROUND. Biddeford now features the youngest demographic in the state with an increasing number of young families that need a place to play.
Suger envisions a centrally located green space with a MAINE made playground structure by CEDARWORKS, a rainwater harvesting small water feature, progressive amenities for trash, recycling, and composting along with a dog doo service station with bags + sanitizer. Additionally Roxi is partnering with the ECOLOGY SCHOOL to plan an educational aspect to the park with a small garden and interactive design details. Finally, Suger is working with HOB and the BIDDEFORD SCHOOLS to include an appealing space for middle school and high school students while also creating a program with the schools and the center of technology for tending and maintenance. Landscaping will be selected to be as easy care as possible while adding peace and beauty to the downtown.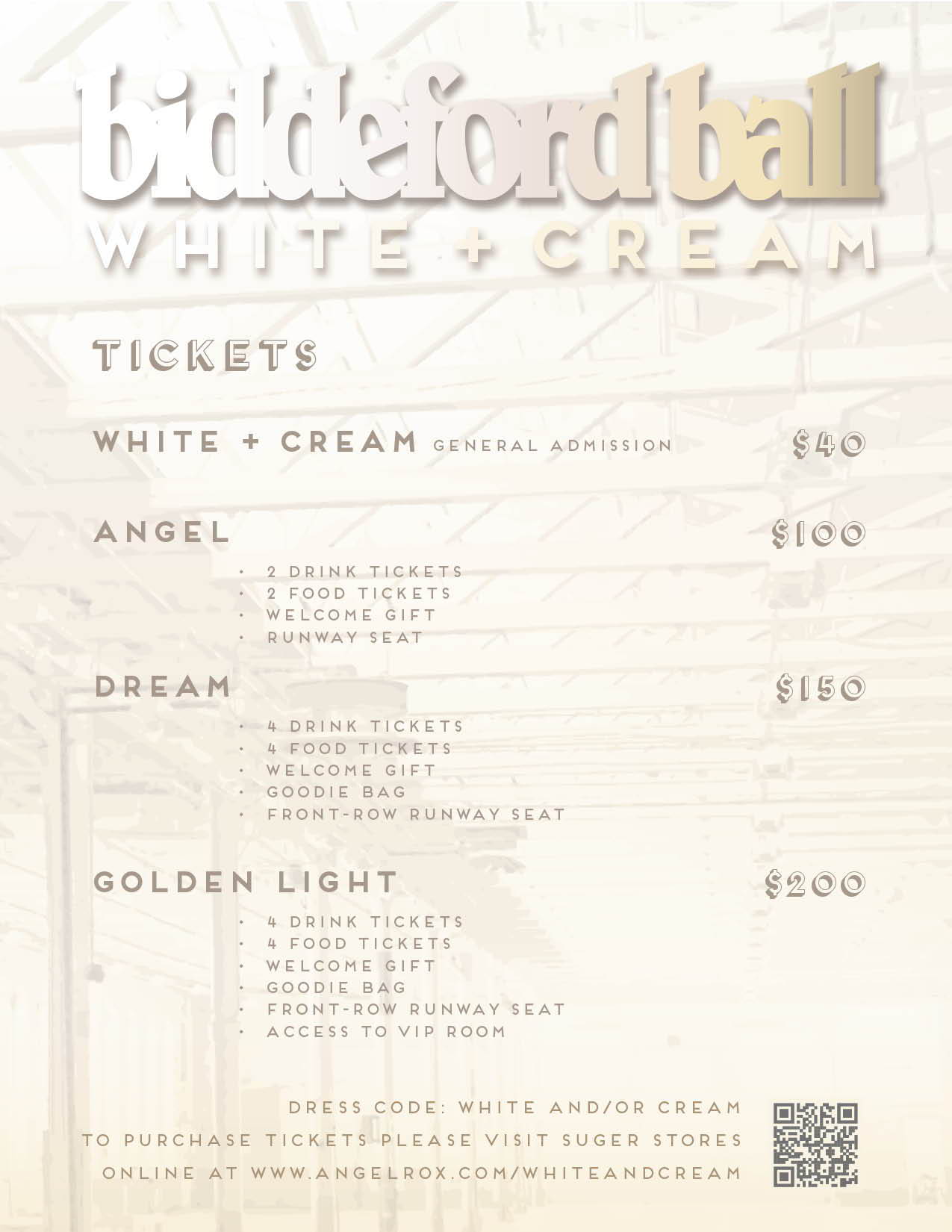 The 2023 BIDDEFORD BALL will take place in the historic PEPPERELL MILL. Specifically building 13-2W, a vast and lofty 25,000 sq ft open mill floor. This is one of the last undeveloped open spaces in Biddeford and Saco Mills. Generously sponsored by Presidium, the new owners of this incredible complex. The theme for this event is WHITE+CREAM. This is the dress code but looks can be formal or casual, street or costume. Light tans, khakis, flesh tones along with gold, silver, pearls and sparkle are all on theme. YOU do YOU.
We just hope to see a zen palette of beauty.
One of the hallmarks of the Biddeford Ball has been to share these historic spaces with the community before they are subdivided for modern use. This will be the 3rd Biddeford Ball to be held in the Pepperell Mill with the 2016 Black+Tan event held in Chinburg Properties Saco Mill #4 in 2016.
This spectacular event will feature food + drink from a wide range of local brewers, chefs, makers and bakers. After settling in to meet and greet, the Ball will kick into high gear with Guinean MASTER DRUMMER NAMORY and friends. Various dancers and performers will hit the floor to inspire the crowd to move and groove.
Next will be a jaw dropping runway show from Roxi Suger featuring her ANGELROX collection styled with vintage pieces honoring her Momma along with other local designers. Suger proudly crafts her sustainable comforting plant based clothing in the Pepperell Mill but as this show will prove her roots were planted in NYC.
Following the runway show will be live Salsa music by PRIMO CUBANO. In between sets there will be special performances of Bubble Burlesque and redesign.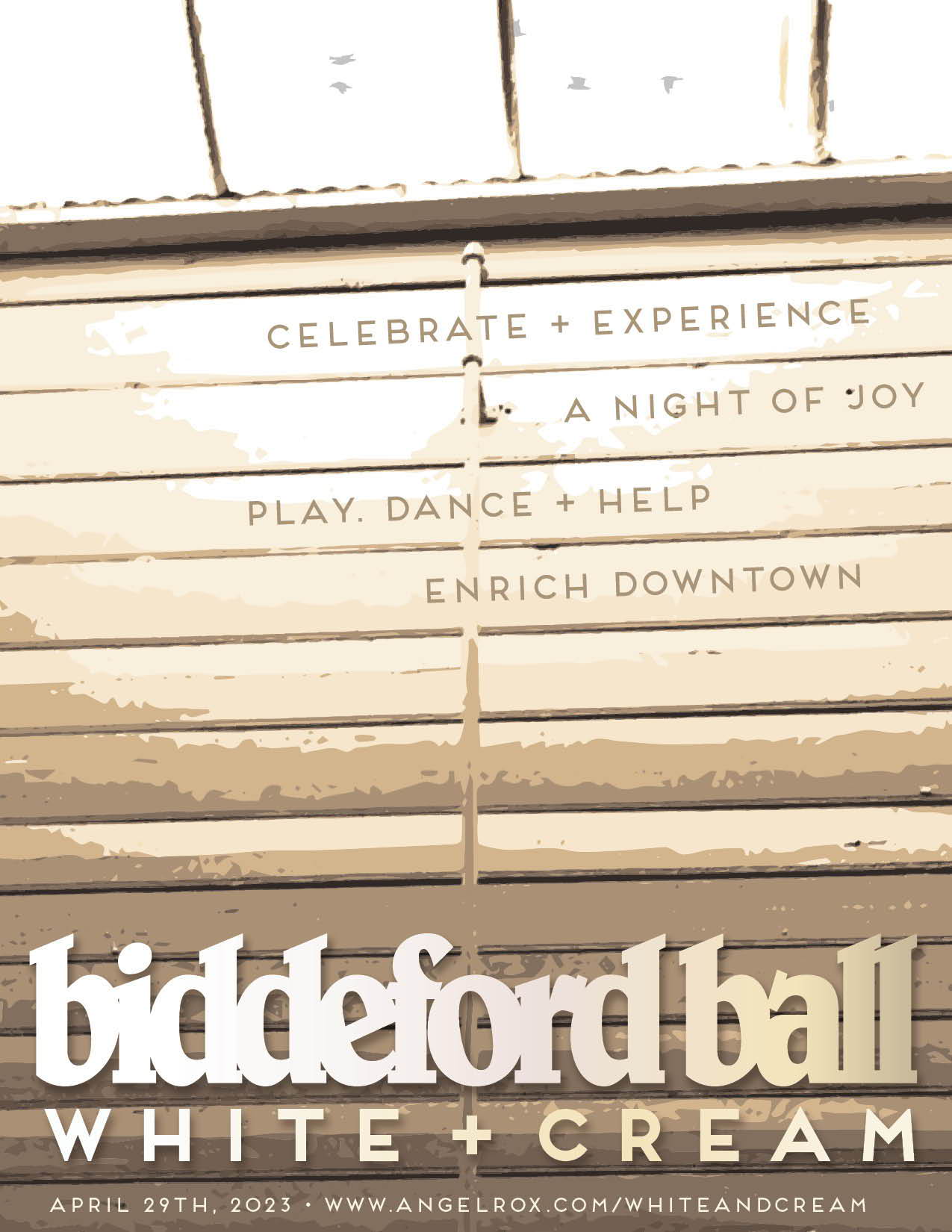 The Heart of Biddeford is the Ball's non-profit 501-3C sponsor. This vibrant downtown development group has led the way in courting creative talent and new businesses to Biddeford. The tireless efforts of HOB's director, Delilah Poupore, and her sweet volunteers led to Biddeford receiving the prestigious Great American Main Street Award in 2022. This coveted award recognizes communities for their excellence in comprehensive preservation-based commercial district revitalization. "Biddeford proves that equity and inclusion are the future of the Main Street movement," said Main Street America President and CEO, Patrice Frey.
Ball attendees will be picked up from nearby parking by white limos and brought to the door of the mill to save feets for dancing. Many out of town attendees will stay at the newly opened Lincoln Hotel.
Sponsors have been coming from up and down the coast.. Major contributors include Portland's Coffee by Design, New Hampshire based Chinburg Properties and Jim Godbout Plumbing. Dannah from Kennebunkport, Bangor Savings Bank, M+T bank, Fathom Industries, Ocean View Properties and Equilibrium are also helping to make this event possible along with generous assistance from Transformit, Biddeford Painting, Sherwin Williams Paint, and the Lincoln Hotel. The Lincoln Hotel has reserved a block of rooms with a special rate and a minimum of a 2 night stay. Our afterparty will take place in the lobby of the Lincoln so it is the best and most lovely option of where to stay!
If interested please click here
In the drop down menu, choose 'Discount Code' then "Group Attendee"
Special room block code is "Ball2023"
Other accomidations include
Holiday Inn 2 miles
Ramada by Wyndham 2.1 miles
Comfort Inn Saco 2.3 miles
as well as various Airbnb properties
Food and beverage partners include Pepperell Provisions, Batson River Brewing, Reilly's Bakery, Banded Brewing, Lucky Pigeon, Sacred Profane, Magnus on Water, Part and Parcel, Nibblesford, Nono's Gluten Free, and many more…..
Delilah from the Heart of Biddeford says "We are thrilled to see the return of the Biddeford Ball! Biddeford is special because people like Roxi share their passions and unique talents. I can guarantee that this Ball, like the first three, will be an unforgettable evening. And it's exciting that together we'll be contributing to creating play space in the downtown!
And the new city councilor of Ward 5 in Biddeford, Julian Schlaver, shares " The Biddeford Ball brought together businesses and residents and showcased the creativity of the community. It helped trigger a transformation that has led to the downtown being recognized nationally. This year's event promises to be the most exciting and inspiring one yet and is sure to bring joy for a long time to come.
For tickets and more information please visit https://biddefordball.org
Follow the Biddeford Ball on Facebook and Instagram
https://www.facebook.com/biddefordball/
https://www.instagram.com/biddefordball/
Thank You to Our 2023 Sponsors