downeast
By Caitlin Gilmet
Photographs by Nicole Wolf
Designer Roxi Suger is leading a quiet revolution in women's fashion, one that emphasizes softness and support over fussiness. "I want women to flow with us and go with us," she says. A sense of ease is fundamental to her clothing collections — Angelrox, her main line of versatile designs, and Suger, women's classics. Both are handmade in Biddeford from bamboo, organic cotton, and beechwood fibers. Suger is also the name of her boutiques in Portland and Biddeford.
Growing up in Muscle Shoals, Alabama, Suger learned to sew at an early age from two grandmothers, and by age 10, she knew she'd be a designer of clothing that moves and supports women of all shapes and sizes. "I also loved dance," she remembers, "and was drawn to the focus on wellness and the freedom to express yourself."
She founded Angelrox 20 years ago in New York, after a career that included work with legendary designer Vivienne Tam and teaching at Parsons School of Design. Though her roots in fashion run deep, her own designs aren't beholden to trends. "As a designer, the job is typically to follow the market," she says, "but I find that mimicking the style of the moment dominates over creative expression. I stand for what I believe in, which is clothing that feels timeless, individual, and freeing."
There are no assembly lines: every piece is handsewn from start to finish by one stitcher.
---
Pieces come in a rainbow of earthy colors so they can be mixed and matched, and many are multi-purpose, like the Flirt, which can be worn as a poncho, skirt, slip, dress, or cowl-neck halter. Another piece, the Cardigan, can be worn like a jacket with four deep pockets or, flipped upside down, as a cape or a wrap. Suger also designs accessories like lightweight opera sleeves, which offer sun protection and warmth, and headbands that can be worn wide or scrunched thin.
"You can bring your individual perspective to Angelrox and Suger," says Jen Fox, a self-described "obsessed customer" who now works at the Portland retail store. "It's a foundation, and you personalize it. You come through, and your unique, beautiful self shines."
---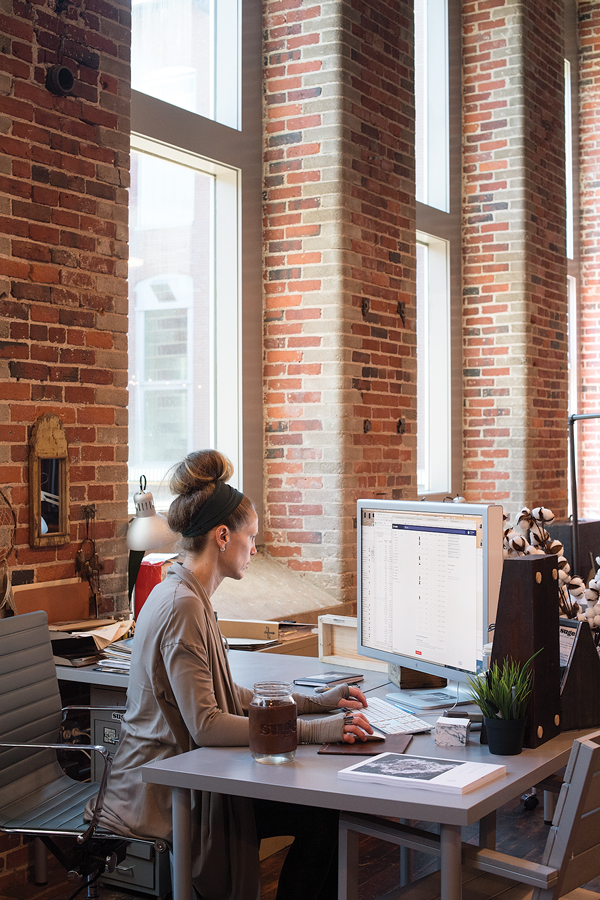 Tell us more Roxi Suger
Are Mainers fashionable?
I think so. Mainers have confidence in the lives we're living. That mindset marries well with our topography — we like smart, practical, enduring clothes. Good design is functional and harmonizing, and good style is being happy in your own skin. Mainers embody that ease and resilience; they're at peace with themselves.
Why base your production facility in Biddeford?
Moving from Brooklyn to Maine six years ago was the catalyst for our evolution. We're based in the Pepperell Mill. Working in an old textile mill feels like a resurgence of a beautiful history. We're talking to women who worked in that mill at 17, and now we've brought some of those jobs back. It's a blessing to be part of Biddeford's renaissance.
What manufacturing techniques do you use?
Every piece is hand-sewn from start to finish by a single stitcher, so each item gets a lot of love and attention. We use an American-made machine that was invented in New England in 1881, and we have a special serger that makes the smoothest, most delicate seams you've ever experienced. Our customers demanded that softness. You can go from work, to wellness, to sleep in our designs.
Why do you use primarily plant-based fabrics?
Cotton, bamboo, and beechwood are molecularly cellulose-based, so they wick and soothe. Each item undergoes a special process to give it drape and flow, and the bias-cut pieces forgive and support your figure. The fabric has a weight that feels therapeutic.
What about sizing?
It's different. We have names like "clouds," "feathers," and "songs," to free women from the torture of traditional sizing. We're perfect just as we are every day!
Find Suger boutiques at 271 Commercial St., Portland (207-805-1018) and 25 Alfred St., Biddeford (207-494-8456).
https://downeast.com/angelrox-and-suger/